World's Largest Registrar | Internet Domain Domination
In order to understand the immense impact of go daddy on the world wide web, just focus on two data figures. First is the number of customers which is more than twelve million in numbers and constantly growing with every passing day, 12 million is not a small figure, that clearly shows an immense amount of trust by internet users, so many satisfied customers will ensure more conversion since they will recommend to their friends and family to go for same company for web identity and other services. This customer referral  in return generates new name registrations and existing domain transfers from other registrars on the internet. Second figure is the total number of web names under management of go daddy, this number of above 58 million. Just imagine how a single company is able to handle domains on such as massive scale. Now if we research and read user reviews, most of the members of the site trust the company and give a very satisfactory rating because of their good service.
12 Million Satisfied Customers
58 Million Managed Domain Names

(Figures recorded in September, 2014)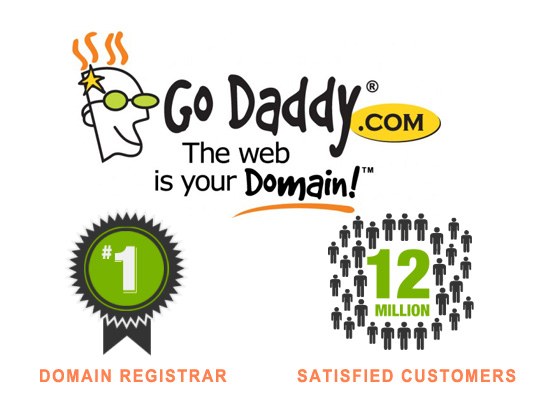 What's Included in a Domain Registration?
Just like other registrars go daddy provides set of tools that helps in domain related tasks. These includes the following:
Easy and fast Domain Name Server Forwarding which will help you connect with your preferred web host for website. Go daddy performs the DNS propagation much faster and in some cases you will get your site connected in few hours. Normally this counts between 24-48 hours.
Easy to setup your domain, with very basic knowledge everyone can register their web identity. Simply follow the on screen instructions and you will be able to set up your web presence in matter of minutes.
Forwarding domain to an existing website is super easy, simply enter url of your site or blog and you are good to go in matter of seconds.
Easily create multiple subdomains so you can have your website categorized into different topics. Go Daddy allows up to 100 sub-domains free of charge.
With 100 email aliases you will be able to create business email addresses representing your custom web identity in email format.
Each domain can be registered for a minimum of 1 year and maximum of 10 years in a single transaction. Multi-year registration will ensure savings but most users go for 1 year billing cycle, Go daddy provides an automatic renewal control that takes permission from user and charge your credit card or other merchant source to renew your domain automatically.
Round the clock (24 hours a day / 7 days a week / 365 days an year) award winning customer support will ensure a timely resolution of your account or specific domain related problems. Simply call helpline number or submit a support ticket, each case will get expert help in short time.
optional feature to add private registration to your online identity, this will help your web presence to fight domain related spam, block harassers / black mailers, receive better personal and family privacy etc.