One of the most popular GoDaddy figure is Danica Patrick who represent the company as the brand ambassador by appearing in numerous television commercials and online banner advertisement mostly on godaddy website. In order to boost the marketing godaddy participates in various events, the most popular is an active Nascar sports car event where car printed with go daddy #10 danica patrick which acts as a powerful marketing campaign. She drives the car/ hauler to grab attraction of the fans.
Danica Patrick Nascar #10 Chevy SS Car Toy
Chevy SS (sports sedan model) is the most popular Danica Patrick Nascar event sponsor. SS is a popular name in the sports car lineup with famous #10 representing popular Go Daddy online domain registrar. Apart from the original dominant green color with orange touching, a total new revamped pink ribbon car version is available to raise the breast cancer awareness campaign, painted more than half in pink while rest of the body is colored in standard green.  The real car has 6.2L V8 engine with super high torque, resulting in unbelievable 415 Horsepower equipping the sports model to reach 60 mph (miles per hour) in only 4.7 seconds. This is just a toy replica of same car on a 1:24 ratio small scale. Chevy SS is not the only Danica Patrick sponsor car used, also available is a black/ dark grey color option under #7 godaddy on a Chevy Impala car. These car toys are available in both die-cast as well as plastic models.
"Chevy SS GoDaddy Car is definitely a great gift idea to give to young boy"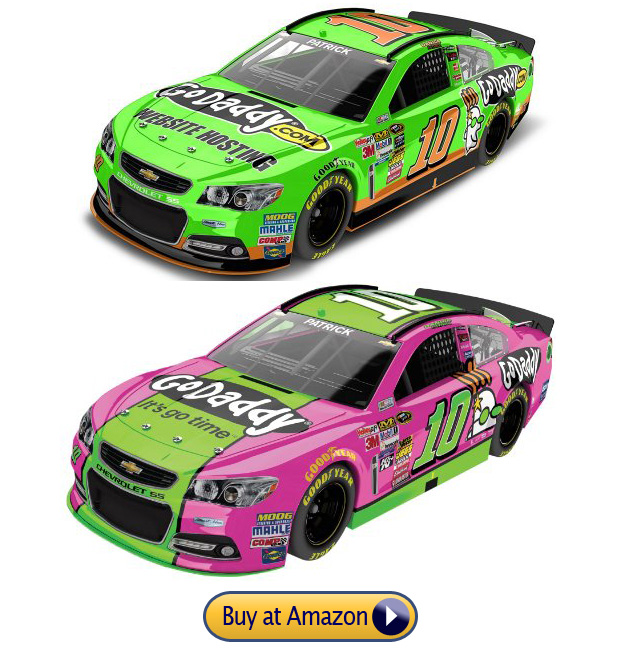 GoDaddy Danica Patrick Nascar #7 Hauler Toy
The sponsor Nascar Hauler toy is available in various color schemes under #10 and #7 tags. However, the original green color is the most wished for by godaddy fans. Exact replica of original Danica Patrick Nascar hauler sponsored by godaddy which is scaled down at ratio of 1:64. You can get toy model in white and orange color scheme as well as all light green in the form of nice looking trailer. A great gift for a boy who loves to make a collection of Nascar haulers and cars.